I haven't done one of these in awhile, and it's mostly because it's been BALLS TO THE WALL crazy in my space.   But here's some stuff I've bought lately (or at least in the last six months and have been meaning to tell you about):
The Conair Infiniti Hair Drying System of Doom.  I added the last part, but to be fair, you could bludgeon someone to death with this thing.  Which, at first, I was all, Man, this is REALLY heavy but then I realized that hey! bludgeoning!  And, actually, it does a KILLER (ha!) job of blow drying my hair.  It gets PLUH-ENTY hot, and it gets even my mop of hair dry and straight in under ten minutes, hand to Jeebus.
The Madden Girl Sheldun Boot.  I'm always amazed when people don't know the Madden Girl line.  It's a great, affordable line that is basically a less-expensive version of the coveted Steve Madden line.  I own SEVERAL pair of Madden Girl shoes and people ALWAYS compliment me on them.  Most of those shoes have lasted me for several years, so don't let the small prices decieve you.  This autumn/winter, I've been living in this boot in black and the Punkk Slouch boot in brown (which I can't find online anymore).  LOVE THEM.
Head Slick by HeadBlade.  I don't know if I've talked about this before, but literally every time I use it, I think, I need to share the love of this stuff!  I have too problems when it comes to shaving: sensitive skin and/but very thick hair.  This stuff, which I initially picked up as a stocking stuffer for Bryan last Christmas, is AMAZING.  Very slick, but silicone based so your blade doesn't dull as quickly.  A little bit truly goes a long way .. this is what I use for all my shaving, and my husband uses it for his head, and we still make a bottle last for months.  LOVE IT.
Lungs, by Florence and the Machine.  I had heard of the group for awhile, but.. and, look, I'm not proud to admit this, but.. I could only be convinced to download it when 1) I realized she was a redhead after her appearance on SNL and 2) the Glee kids did a cover of "Dog Days are Over".  And now?  I'M IN LOVE.  Girl got vocals and a lot of savvy and angst to back them up.  Also, "Dog Days are Over" is my new mantra.  LOVE IT.
The Bounce Dryer Bar.  I am that sad, sad person who finds true joy in lessening the duty of laundry.  I HATE LAUNDRY.  What's better/worse is that my husband LOVES laundry.  I shit you not: every weekend, he does AT LEAST four loads of laundry.  Usually five or six.  This used to equate to THOUSANDS OF USED DRYER SHEETS INVADING MY FLOORS.  It was something of an OCD girl's nightmare.  This?  Eases my anxiety just a little.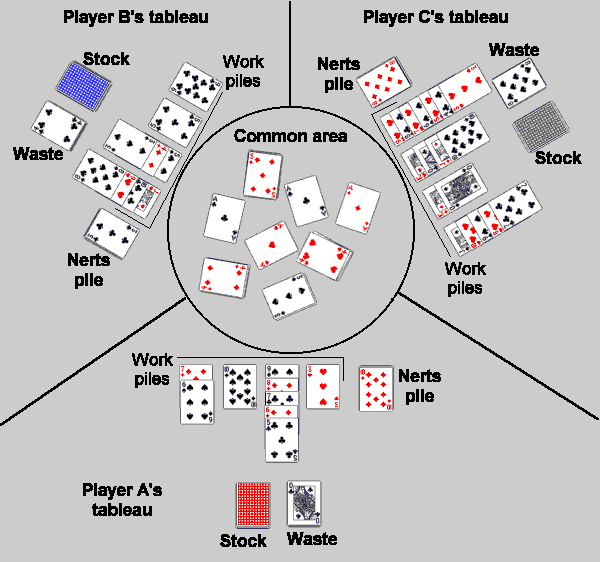 Lastly, a game of Nerts.  Apparently, a big thing at Bible Camp of Homeschoolers is a game called Nerts, and my husband L-O-V-E-S it.  He's convinced that he and his sister actually invented it.  So I (reluctantly) allowed him to teach me on Sunday night.
Before you make your own assumptions, let me just confess that my husband is one of the most competitive people you've ever met.  Like, I won't play video games if he's playing.  And it's not that he's mean in his competitive nature, but he's A SORE, SORE LOSER.  If he's losing, it's obviously the 1) controller's fault 2) rotation of the earth is off or 3) JACK, WHY DID YOU DO THAT?  So the idea of playing a card game with him made me take pause.
But he taught me.  He was very kind and moved slowly for me and forgave me when I had to call TIMEOUT to straighten my card piles because there weren't straight, and most importantly.. it was quiet time for us to focus on eachother that didn't involve an episode of The Real Housewives of (Insert Locale Here) playing in the background.
(I kind of want to play again.)
So.. this is MY favorite part: what have you bought lately?