Are you still doing that dairy-free thing?
I swear to you, this is the most frequently asked question when I run into people, either in real life or online. I would like to think it's because it's a fascinating topic, but really I think it's because people consider me freakish in my desire to cut dairy out for no particular reason.
It's true, that statement above. I don't believe myself to have a full-fledged allergy to dairy, but I do believe I had a sensitivity issue with it. An intolerance, if you will. And yes, for the most part, I am still doing that dairy-free thing.
So it's now been about .. five months? ish? since I started. I should state here that I am not whole-hog about the no-dairy thing; folks who have a real allergy to it will often avoid baked goods, breads, etc. I am not that woman. If I'm going to give up cheese, FINE I GUESS, but there is no way I'm going to give up cheese and bread. You will pry my Olive Garden breadsticks from my cold, cheese-free hands.
It's not so bad, this thing. I mean, it takes some getting used to – the hardest part was that I was forced to actually reconsider what I was ordering or cooking. It's so natural for me to say "A #3, please" at any drive-thru lane, but now I have to stop and think about what's actually ON said #3.
I also don't shy away from dairy in something that includes scant amounts. For instance, when I make Aunt Patty's broccoli salad, sometimes I do include some cheese. Sometimes I don't. If I do include it, it's maybe 1/4 of a cup, so an actual serving size has negligible amounts in there.
And, true, if I drive through McDonald's on my way to a 7:00 a.m. meeting, I will order a large coffee with four creams and four Splendas. Because their creamer is powdered, so .. my brain says there's not a lot of true dairy in there.
BUT! Because you guys are so curious, here's what I've found that helps me by.
I mentioned McDonald's and coffee up there, but honestly, most mornings I make chai green tea at home. A little (okay, a lot) bit of natural honey and some So Delicious Coconut Cream and I'm good to go. I have long been a half-and-half girl in my coffee or tea, but I don't miss it AT ALL with this stuff. Honestly, I like it way better than any dairy cream I've ever used. It's not quite as thick as heavy cream, but it's far superior to any non-dairy dried creamer I've ever tried.
It's fair to mention that I've never been a milk drinker. Milk has always made me gag – I could only drink whole milk, believe it or not, and even then it was forcibly swallowed – so I figured I wouldn't need to replace it with anything. Turns out, I still used milk in stuff. Cereal, cooking, recovery chocolate milk after a run.. I was finding lots of places I still needed gross ole milk. I tried soy milk, but .. it wasn't for me. So I tried Silk Pure Almond Milk .. and I really like it! Where I would never have a glass of dairy milk just because, I can drink this stuff. Willingly, even! I get the vanilla unsweetened kind because most often I use it in cereal or chocolate milk, so the sweetened stuff is kind of too much.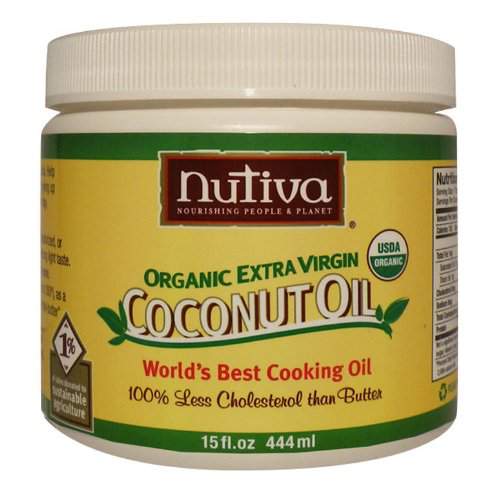 This is not really dairy related, but I thought I'd share this just the same. I switched to Nutiva Organic Coconut Oil about a year and a half ago for all things oil-related. We still keep some canola and olive oils in the house, but this is our main go-to when sauteing or cooking or what have you. Honestly, if one of us has dry skin, I use this on the rough patches. I've also been known to put some on split ends before a shower. It's AWESOME. And no, it doesn't taste at all like coconut. (But it does SMELL like Hawaii while you cook, and that's never a bad thing.) And since I've started using it, both mine and Bryan's cholesterol have come down considerably. (There's also lots of other theories on the benefits of coconut oils!)
Now the rest of my family still drinks regular milk, and that's fine with me. In fact, I ran out of their milk one late night and Tony asked for some. I gave him my almond milk and he took one sip and said, "Momma, this milk is yucky." Okay, fine, I said, don't drink it. "Momma, it's so yucky, I think someone went poo-poo in this when I was not in here."
That's a bit SPECIFIC, child, but okay, thanks, I get the point. How about YOU head out to the store and get more milk FROM A COW'S TEAT?
By the way, it does NOT taste like someone went poo-poo in it while you were not in there.
Everyone always asks how much weight I've lost and I have to always shrug and say None. Cause I haven't really. The scale hasn't budged. BUT I had some "pooch" in my lower stomach, and I always wondered if it was more than fat. It's shrunken considerably. (Probably would go away completely if I went 100% dairy- and gluten-free.) And my body is redistributing stuff differently, so that's awesome. Also, I so rarely eat to the point of uncomfortably full now. I didn't realize how easily and mindlessly I was doing that. It is the rare exception for me to be uncomfortable after a meal now.. most times, I stop when I'm full.
(Of course, I say that, but tonight I had some leftover cinnabons for dessert and am about to settle into Jenny's new book on my Kindle with a glass or two of sweet red wine.)(Also, because I'm damn proud of it, I want to note that I did not BUY said cinnabons, I made those bitches. On an early Saturday morning AFTER running a 5K.)
So, yes. There's my dairy-free lifestyle. You'll find a lot of new snacky type things in my house that were typically occupied by cheese before. (Or yogurt. I miss you, yogurt.) Avocados, apples, oranges, Riceworks crisps, cashews .. those are all my go-tos now. I can't say that I really miss dairy (other than yogurt)(or sour cream)(OR QUESO)(OKAY, SHUT UP, I MISS IT), but I doubt I'll ever go back to the way that I used to eat.
I have no clever way to wrap this up. So on to my wine.