To start: someone asked me on Twitter lately if I am paid to do these. Actually, no. I'm not. In fact, to be perfectly frank, I even removed my ad network back in June when my contract ran out. (I have a myriad of reasons why, and you may ask if you are interested.) Anyway, no, these posts are not sponsored unless SPECIFICALLY NOTED that they are. I can't even think of one that may have been sponsored, but Never Say Never is more than a Beiber movie and all that jazz.
(This is not to say you can't send me free stuff. If you send me free shit, I will gladly talk about it here.)
Anyway. Moving forward.
SOME STUFF I'VE BOUGHT LATELY!
I asked your opinions on a previous Stuff I've Bought Lately post to see if the Shark Lift-Away Vacuum was as incredible as it claimed.  Many of you spoke up and said that YES. IT IS THAT AMAZING. So I went and got myself one. HOLY HELL, Y'ALL WERE RIGHT. I went ahead and got the Professional model because 1) the cord length is longer and 2) it came with a "dry-sweeper" attachment meant to pick up pet hair. It is pretty awesome, if awesome can be defined as "OH MY GOD, THAT WAS IN MY CARPET?". Then yes. Totally awesome. Were I to find any faults with it, I would say that it's actually a bit heavier to push than my old unit, and that although it is bag-less, it does have a filter that gets mightily dirty. But other than that? Dude, I'm sold.
If you want to know the only downside to my head right now, it's that red (as an applied color) fades SO quickly. It's notoriously a high-maintenance color because it fades in both water and light, and it's not uncommon for a fire-engine red to fade to a dull ginger in a matter of weeks. My colorist suggested a bottle of Tressa Watercolor Shampoo to maintain the color in between visits, and WOW. Now, I was nervous, because I tried the "color-depositing" stuff back in the early 2000s, when it would stain anything it touched and smelled awful and your skin looked awful after you used it. But this was INCREDIBLY easy to use – lather in place of shampoo, leave on for 2-5 minutes, rinse out, follow with conditioner – and it didn't leave a trace of color in my shower. It noticeably brightened my color, to the point that folks who had seen me over the last week again complimented my head. While my stylist recommended I only use it once a week – it is drying – I can see where this will be a lifesaver in extending my color.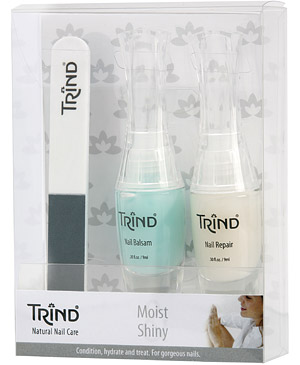 As we talked about in my last post, I don't really wear polish on my fingers that often. Mostly because I use my hands SO much – I type a LOT in my line of work and I also cook and clean too much for a fancy manicure. But also, when I was younger, I had acrylics and the feeling of them peeling off the acrylic top from my nail bed is literally the stuff my nightmares are made of. I am shuddering and gagging at the thought as we speak. Shellac was a nice compromise, but it was more expensive than acrylics and was still just as damaging to my nails. ANYWAY. This is not to say that I don't long for gorgeous nails, because we all do, amirite? While running one Saturday morning, I asked a gal who did her nails because they were FIERCE. She was sporting an American manicure, but it was so clean and pretty that I wanted THAT. She pointed me to Trind nail care, and the rest is history. I used this kit here, which I hesitate to name. Remember, the brand is Canadian, so there may be a language barrier – it's called the Moist & Shiny Kit. No one wants moist nails. I think we can all agree that moist is probably the worst thing your nails could be, right? Anyway, I call this the Thirsty Kit because it is hella moisturizing. You apply the nail balsam first and then a layer of the nail repair. It magically makes your nails look AMAZING.
Okay, fine. I'm one of THOSE people. Remember how I was feeling serious Mommy Guilt because the swimming lessons offered weren't offered at times for working parents? Yeah, I fixed that RIGHT up. Our Little Gym offers a free trial class and we went in for one and after an hour, we realized that we had found our place. Tony goes for an hour class every Saturday, where he tumbles, works on the balance beam, tries the rings and the uneven bars, and generally has a BLAST. The classes focus on life skills as well – this is a place where you are praised for waiting patiently, and MY GOD, does Tony need to be acknowledged there. (In school, they are at the age where the children who misbehave get all the attention.) He takes his time there very seriously, and the teachers are amazing. They also have the Parent Survival Nights a couple times a month, where we drop Tony off for three and a half hours and then pick him up. During that time, they work in the gym, they play games, they make a craft, they eat a snack, and they watch a movie. HE LOVES IT. And to be honest – we don't always even go out when we take him there. Sometimes, we just go home and sit in the quiet. WIN WIN. He starts the season session this Saturday and he's seriously jonesing because we missed last week for the wedding stuff. Is it cheap? NO. NOT CHEAP. But it is SO worth it to have this kid find something he's proud of.
Lastly. I did not buy this, because it was worth more than I could ever, ever afford. Last night, we had a pedicure party at my house. And Bryan and Tony got matching pedicures. (Also, can I just tell you how y'all have made me cry repeatedly with the pictures of your men with pink nails?!)
Have a FABULOUS weekend, y'all!