Setting: A bed. Two tired, overworked adults lay in the dark. They are probably married. Actually, they are and this entire conversation will confirm that, because this is a conversation you have when you're overworked and tired and married. Also, there was probably a feverish baby crying at some point in the background.
Bryan: You really like that guy, huh?
Me: Which guy?
Bryan: You know. The guy. On that show. With the dad.
Me: Hm. With the daaaad..
Bryan: YES. His dad was on that show a long time ago.
Me:  … zzzzz …
Bryan: The sitcom! About the family! And he wrote the theme song for it!
Me: I HAVE NO IDEA WHAT YOU'RE TALKING ABOUT.
Bryan: What was it?..  Family Ties! He wrote that song.
Me: ?!?!?
Bryan: ::singing:: Making your way in the world takes everything you've got..
Me: …
Bryan: You like that guy.
Me: Bryan, I swear..
Bryan: THORPE! The THORPE guy!
Setting: My computer, the next morning. Ass-crack of dawn early. Or five minutes after that.
Me: Oh gawd. He ..
Let's try and piece this together, shall we?
Robin Thicke, on The Voice (Whom, YES, I like VERY VERY MUCH. He makes me FEEL things.)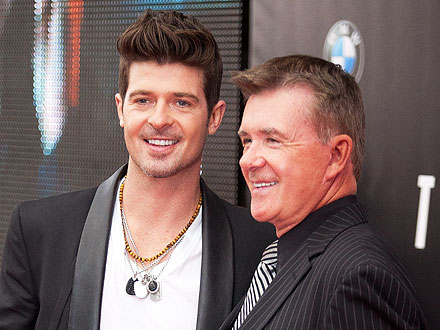 Robin Thicke is Alan Thicke's son..
Alan Thicke was the dad on GROWING PAINS, NOT FAMILY TIES..
Which he DID NOT WRITE..
But he apparently did have quite the history with theme songs, who knew?
And also, BRYAN WAS SINGING THE THEME SONG TO CHEERS.
Yet, when he mentioned "Thorpe", I knew exactly who he was talking about.
That's love, folks.